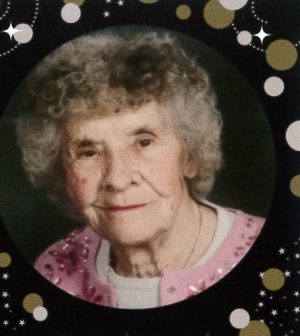 Mary T. Cerny, age 99, of Leonidas, died Saturday, July 28, 2018 at Thurston Woods Village in Sturgis. She was born in Chicago on Aug. 2, 1918 the daughter of Stanley and Josephine (Cicha) Wojciechowski.
She was a loving wife and mother who enjoyed flower gardening, decorating her home and yard for holidays, caring for senior citizens and her family. She also cleaned homes and businesses in the Leonidas area and worked at the former G-W Pizza in Mendon. She lived her life motto of "Love your neighbor".
Mary is survived by her six children, Ron (Ruth) Cerny, Don (Shannon) Cerny, Stanley Cerny, Frank (Deb) "Skeeter" Cerny, Jr., Pat Hildebrand, and Mary Lou (Barry) MacDonald; 13 grandchildren; 24 great-grandchildren; and 1 great-great grandchild.
She was preceded in death by two husbands, Leo Lewandowski and Frank Cerny; 2 sisters, Elizabeth Christel and Lill Baron; 4 brothers, Stan, Ed, Chester, and Steve Wojciechowski.
The family will receive friends from noon to 2 pm Wednesday, Aug. 1, 2018 at the Eickhoff Funeral Home in Mendon. Funeral services will begin at 2 pm Wednesday at the funeral home with Rev. David Farrell officiating. Burial will be in Leonidas Cemetery. Memorials may be directed to the Wounded Warrior Project. Condolences may be expressed to the family online at www.eickhofffuneralhome.com