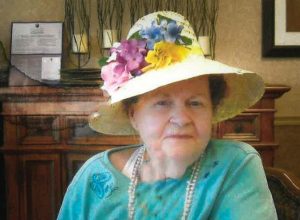 Ruth Ann Riley-Kile, age 91, formerly of Mendon, died Tuesday, July 10, 2018 at Medilodge in Portage where she had resided the past ten years. She was born in Battle Creek on March 28, 1927, the daughter of the late Orman and Stella (Hardin) Trumblee. Ruth Ann owned and operated for many years Ruth Ann's Beauty Shop in Mendon. She later became a Quality Control Inspector for the Continental Can Company in Three Rivers. Ruth Ann was an avid reader, loved people, dogs and cats and all little creatures, music, bingo, card playing, and Diet Coke.
Ruth Ann was married to Joseph G. Riley on April 28, 1945 in St. Edward Catholic Church in Mendon. Joseph passed away in 1967. She later married Daniel Kile, who passed in 2006.
Ruth Ann is survived by a daughter, Joanne Riley Becker; a granddaughter Julie Marie Riley Becker-Zabavski and her husband, Brenden; and by a great grandson, Alex C. Zabavski all of Kalamazoo; a sister, Patricia Beard; brother, Orman (Madelyn) Trumblee; and a niece, Tammy Beard all of Battle Creek. Ruth Ann was preceded in death by a daughter, Jeanette Marie Riley in 2010.
There will be a visitation from 9 to 10:30 AM Friday, July 13, 2018 at the Eickhoff Funeral Home in Mendon. The funeral mass will be celebrated at 11 AM Friday at St. Edward Catholic Church in Mendon with Msgr. Thomas Martin officiating. Burial will be in St. Edward Cemetery followed by a luncheon in the lower level of the church. Condolences may be expressed to the family online at www.eickhofffuneralhome.com