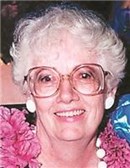 Vera A. Ruge, age 99, of Colon, passed away Monday, Aug. 13, 2018, at Maple Lawn Medical Care Facility in Coldwater.
Vera was born March 7, 1919, in Chicago, a daughter of the late John and Alice (Gooley) Mansell.
On Jan. 12, 1946, she married Howard J. Ruge in Chicago. He preceded her in death Oct. 1, 1988.
Vera retired in 1982 from Colmer Company in Colon after 18 years of employment.
She was a member of St. Barbara's Catholic Church in Colon, where she was a member of the altar society.
She is survived by four daughters, Alice (Thomas) Cardy of Okemos, Janet (Dean) Whittington of Coldwater, Jane (Jim) Petz of Marshall and Catherine Ruge of Colon; a son, Howard J. (Mickie) Ruge II of Georgia; 11 grandchildren, Jennifer Whittington, Kristin (Cameron) Walker, Bryan (Kara) Whittington, Janine (Scott) Allen, Jacquelyn (Nick) Hoeve, Colleen (Nick) Brown, Jonathan (Brook) Ruge, Geoffrey Ruge, Amy Kline, Sara (Ross) Ginter and Douglas (Jenifer) Lampe; many great-grandchildren; and several nieces and nephews.
In addition to her parents and husband, she was preceded in death by seven sisters, Elizabeth Crinnon, Lillian Hughes, Florence Kahl, Mary Hughes, Norine Early, Gertrude Lenz and Dorothy Read; and two brothers, William Mansell and Frederick Mansell.
The family will receive relatives and friends from 4 to 7 p.m. Thursday at Schipper Funeral Home in Colon. A funeral Mass will take place at 11 a.m. Friday, Aug. 17, 2018, at St. Barbara's Catholic Church in Colon, with Fr. Paul Redmond officiating. Burial will follow at Lakeside Cemetery in Colon.
Memorials may be made to St. Barbara's Catholic Church, Colon Food Bank or Friends of the Colon Library.